The word Leviathan in modern parlance is used to describe lighter than air vessels that acheive lift through the use of electroid, though the word is primarily used in English speaking countries. The original usage of the word 'Leviathan' dates back to the Old Testament of the Bible, where the Leviathan is a terrible sea monster of enormous size. The monster in the seas to the modern Leviathans' depiction as the monsters in the skies. The very first electroid lifted lighter than air vessel was the HML Leviathan, which lent its name to all the vessels of its type to proceed it in the English speaking world. Notably, the French Fleet de Volée uses the word "Ganymede" for their airborne vessels while the Russians use the term elevated ship (Russian: летящее судно, letjashhee sudno).
"Leviathan" can be used to describe any lighter than air, electroid lifted vessel, regardless of country of origin, although those countries might have their own word. The name has also been repeatedly used in the British Royal Skyfleet to name several different vessels.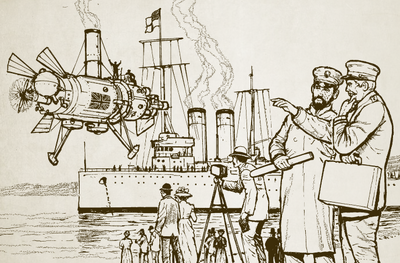 Principles of Operation
Edit
Armored/Protected Cruiser (Type III)
Ad blocker interference detected!
Wikia is a free-to-use site that makes money from advertising. We have a modified experience for viewers using ad blockers

Wikia is not accessible if you've made further modifications. Remove the custom ad blocker rule(s) and the page will load as expected.